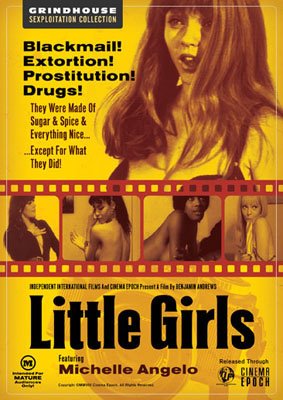 De Franse film "Little Girls" uit 1966 gaat over een voormalige prostituee (Dany) die nu een eigen dansclub heeft. De club is gericht op de jeugd, maar zit in de geldproblemen. Samen met een manlijke medewerker (Mike) verzint ze een plan om aan geld te komen. Ze ronselen vier jonge, rijke meisjes om ze te prostitueren. Ondertussen maken ze geluidsopnames en foto's om de meisjes of hun ouders af te persen. Uiteraard loopt het niet helemaal zoals ze gepland hadden.
"Little Girls" is een licht-erotische film. Meer dan een paar blote borsten van weliswaar mooie actrices zijn er niet te zien. De film is een Franse productie, maar is gesproken in het Engels met hilarische accenten. De film en de acteurs zijn nooit doorgebroken: er is over beide weinig terug te vinden.
Klik op (Read the rest of this entry …) voor screenshots en video.
Titel: Little Girls
Aka: Salut les Copines
Land: Frankrijk
Duur: 66 minuten
Producer: William Eldridge
Director/schrijver: Benjamin Andrews
Met: Michelle Angelo, Ghislaine Paulou, Valentine Pratz, Hamera Belmecki
Release: 1966
Spreektaal: Engels
Bijzonderheden: zwart-wit
Bekijk video: Little Girls(1966)